In The News
Construction to Begin on St. Leo's
St. Leo's Project is Approved!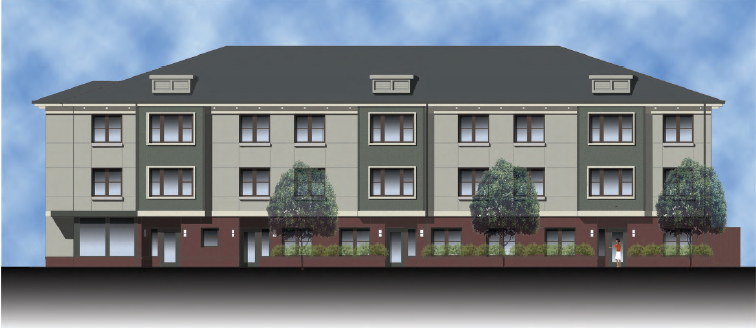 Congratulations to Sister Christina and the St. Francis Center Board of Directors! After a long process that included public hearings before the North Fair Oaks Community Council, the San Mateo County Planning Commission, and finally, our Board of Supervisors, the St. Leo's Project was approved unanimously by our Board on November 17, 2015. Through the public process, the concerns of neighbors and residents helped shape its final design. W. L. Butler Construction, Inc. will be the general contractor for this project.
This spring, I'm proud to say that our Board approved an allocation of $1M in Department of Housing tax credits to build the St. Leo's project. The St. Leo's Apartment project includes 15-units in a three-story building that will be constructed at 2626 and 2642 Marlborough Avenue in North Fair Oaks. Not only will this project add to needed low-income housing to the County, it will replace illegally constructed substandard units with efficient and green buildings. The project includes six (6) three bedroom units, seven (7) two-bedroom units, and two (20) one-bedroom units along with a community room, study rooms on the second and third floors, and a total of 20 parking spaces.
True to their mission, the St. Francis Center is helping the three families that will be displaced during the construction process to secure comparable temporary housing and defraying any rental increase they may face. In addition, these families are assured of a unit at St. Leo's when it opens.
I look forward to the day this apartment building is functional and full. I am confident that this project like the previous projects undertaken by the St. Francis Center has strengthened the community, made it safe, and added recreational, garden and green spaces serving low income families with compassion and dignity.