In The News
Draper Ready for Prime Time: Entrepreneurial Boarding School Set of Reality TV 'Startup U'
(This is the site of a two-phased project W. L. Butler Construction, Inc. worked on, which involved the renovation of three sites and 33 new classrooms.)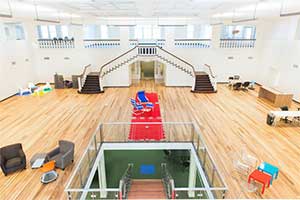 For anyone who's wandered through downtown San Mateo and wondered what goes on behind the doors of Draper University of Heroes, tune in to ABC Family Tuesday, Aug. 11, as the entrepreneurial boarding school is spotlighted with the premier of the "Startup U."
The seven-week long program for burgeoning students seeking to become seasoned entrepreneurs is the brainchild of eccentric venture capitalist Tim Draper, who also stars in this unscripted TV series.
"Startup U" tracks the escapades of the university's most recent class of young go-getters seeking to turn their ideas into success by competing during the finale known as Pitch Day.
Draper University "is a unique setup for this documentary series because we are a very different school where students learn the fundamentals of launching a startup company under the mentorship of America's business leaders," said Draper University CEO Andy Tang. "At the end, they pitch their ideas to a panel of venture capitalists with the hope that they will get a life-changing investment to launch their business."
The show focuses on 10 of last semester's 30 students seeking to promote range of ideas from sparkly cat litter that changes colors once soiled, to using 3-D printing to transform the construction industry with the goal of creating more affordable housing.
Cast in true reality TV style, audiences will get to watch a range of characters from a former beauty queen turned financial consultant trying to propel her online gift site to a Missouri native whose app delivers medical marijuana within 20 minutes to those in need. Draper will also be featured along with two staff members who help guide students through program modules covering business basics to entrepreneurial expertise.
Sequoia Blodgett, a Draper University graduate now serving as the school's entrepreneur in residence, recalled her time competing for funding last year and how she uses her experience to enhance the students' time on the show.
"What's interesting is when I was going through the program, I was like 'this is a reality show. Why has no one picked this up?' It's like Real World meets Survivor meets Apprentice. It's all these reality shows combined and it's really interesting and you'll see as the season unfolds, why I say that," Blodgett said.
Housed in the old Benjamin Franklin Hotel on Third Avenue in downtown San Mateo, Tang and Blodgett said viewers across the country will get a unique look into the passion driving Silicon Valley and the entrepreneurial spirit.
"Unless you're in the tech bubble, and I think that's why this show is going to put a magnifying glass on Silicon Valley, you really don't know what's happening. And it's crazy because there's so much innovation that's happening here," Blodgett said. "It's very interesting because you don't necessarily know unless you're immersed in it, and once you see that and people get the bigger picture as to how it will change the world, I think people will be very much glued to the TV."
With nearly 450 students from across the globe having attended in the three years since the school was founded, graduates have raised nearly $22 million in funding from a variety of "angel investors" and even Draper — who guarantees funding to the winner of the Pitch Day competition, Tang said.
While audiences will have to tune in to see whose ideas are chosen supreme, and may even witness some university romance, Tang said students have more than business proposals at stake.
"In that short seven weeks, I think we are dealing with people learning and transforming and you'll find that not everyone leaves Draper University with a business. Because we're more than just a business incubator, we're here to truly promote the entrepreneurial spirit," Tang said. "It's really a way of looking at your career, looking at your life and what kind of person you want to be. So you can expect to see some very transformative character building in the show."
"Startup U" premiers 10 p.m. on ABC Family.