In The News
Good Tidings for Artists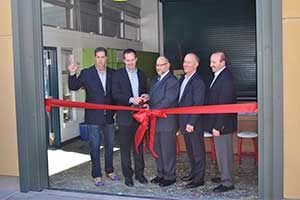 A storage room at Eastside College Preparatory School in East Palo Alto has been transformed. Thanks to a $100,000 gift from the Good Tidings Foundation, a Bay Area nonprofit that supports art, education and athletics for youth from communities in need, the space was unveiled on Wednesday, Feb 25, as the brand new LeRoy Neiman Art Studio.
Following a 1 p.m. ribbon-cutting, the studio was immediately put to use by art students. To date, the Good Tidings Foundation has built 130 sports facilities and art studios, and has given out more than $1 million in scholarships to high school seniors who have shown a commitment to community service.
As part of their ongoing efforts to improve the communities where they do business, W. L. Butler Construction, Inc. was the general contractor for this "artful" renovation. Frank York, President of W. L. Butler Construction, Inc. is pictured on the far right of the photograph from the ribbon cutting ceremony.
To watch the ribbon cutting ceremony, click here.
To learn more about the organization, go to goodtidings.org.
To read the entire article, click here.