In The News
New Dittmer's Location Planned for Los Altos
Dittmer's Gourmet Meats & Wurst-Haus Inc. will have a new home in Los Altos. The popular business was forced to shut down its location on 400 San Antonio Road in Mountain View after a devastating fire on Jan. 23.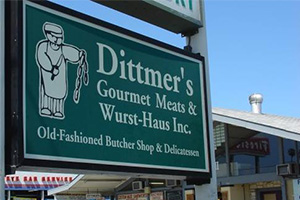 It has been looking for a new spot and almost settled on another location in Mountain View. But it looks like the family-owned store will be occupying 4540 El Camino Real in Los Altos, where a Wells Fargo Bank used to be.
Redwood City-based W.L. Butler Construction Inc. is doing the buildout of the new store, which will be in an 8,000-square-foot building with a mezzanine. W.L. Butler broke ground on the project last week. The business should be completed by the spring of 2012, according to Nick Groeger, project manager for W.L Butler Construction.
"It's a great building for them, in a nice high-profile area," Groeger said. "And it will be bigger than their old spot."
Founder Dittmer Bubert opened the store in 1978. He crafts his gourmet meats according to German traditions he learned while growing up in Germany.