In The News
New Town Centre Takes Shape
Big box retail and locally owned businesses will live side by side at the new, 90 percent-leased Santa Clara Town Centre set to formally reopen next month.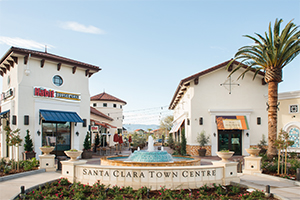 About 14 of more than two dozen tenants are already open for business at the mixed-use shopping hub that clocks in at just under 300,000 square feet. That includes newcomers like better burger chain the Habit, organic grocer Sprouts Market and retail giant Target, which will join existing businesses that have navigated a period of uncertainty after previous anchor Mervyn's department store folded.
The mixed-use Town Centre project is the most recent in the South Bay by San Francisco-based Paja Investments, which last year opened another shopping center in San Jose's Willow Glen neighborhood.
Alex Byer, managing partner of Paja Investments, told my colleague Nathan Donato-Weinstein last year that the $30 million Santa Clara project had been a long time in the making. But the potential upside of creating a shopping hub in an under-served, affluent area proved a strong enough allure to see it through.
"I've always claimed Santa Clara was the most under-served, under-retailed, under-restauranted city in the entire Bay Area,"Byer told the Business Journal when Santa Clara Town Center broke ground. "There's not a lot of great options, partly because there's no central downtown."
The mid-sized shopping center with more than 1,000 parking spaces does mostly stick toSilicon Valley's model of suburban shopping centers that cater to consumers driving by car(though there are also 58 bike spaces). That's opposed to downtown shopping districts like Mountain View's Castro Street or Palo Alto's University Avenue, which also cater to people traveling on nearby Caltrain.
Santa Clara Town Centre was designed by Berkeley's Kahn Design Associates, which focused on playing up the outdoor location and creating a pedestrian-friendly environment.
"We studied successful open-air centers in Southern California, then tweaked some of those ideas to work in this context," said project architect Charles Kahn, owner of Kahn Design Associates, in a statement. "The result combines the best of both worlds – a convenient neighborhood center and a destination shopping experience for the greater community."