In The News
Sobrato Unveils Vision for Mixed-use Project in Redwood City
(project currently under pre-con with W. L. Butler Construction, Inc.)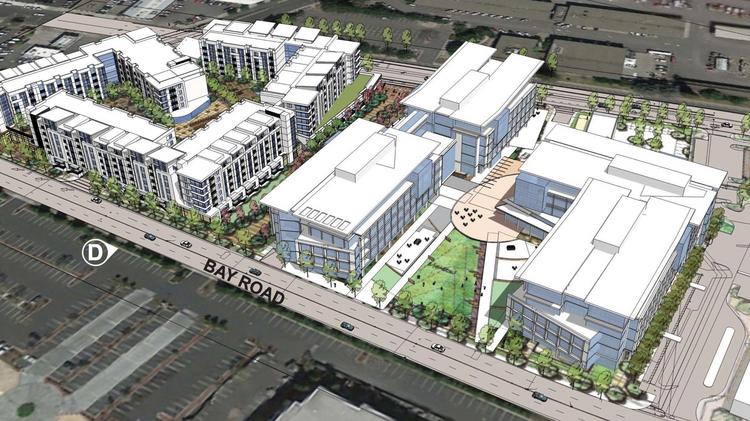 The Sobrato Organization is taking the wraps off plans to redevelop an aging Redwood City shopping center into a mixed-use hub of homes, offices and retail, marking its first development play in the Peninsula city.
The Cupertino-based real estate firm is proposing 400 apartment units, 420,000 square feet of offices and 19,000 square feet of retail for what's currently a CVS-anchored shopping center at Broadway and Chestnut streets.
It's the latest addition to Redwood City's bulging development pipeline, as builders seek to capitalize on the city's key position between San Francisco and San Jose, as well as expansion from big nearby employers like Facebook Inc., Google Inc. and Stanford University. And it's another example of developers integrating substantial office and residential in the same project as concerns grow about the region's housing shortage and traffic.
"We think one of the things developers can do to help is give people the chance to live where they work and shop where they live," saidRob Hollister, president of real estate for Sobrato, in a phone call on Monday. "That's coloring what we're doing everywhere, because we need to address housing affordability, congestion and so on. It's astonishing how much more sustainable these projects are when they're mixed use."
The project is significant because it could better link Redwood City's bustling downtown with a massive office project Stanford Universitywill build at the Mid-Point Technology Park. Broadway Plaza lies roughly midway between the two areas, and would help fill what is now a largely industrial neighborhood. The city in September kicked off a study of a new streetcar line that could run between the new Stanford project and the downtown Caltrain station, a project that would also benefit Sobrato's proposal. "We're very supportive of the concept," Hollister said.
Project specifics
The 11.2-acre Redwood City project, dubbed Broadway Plaza, comes after a year and a half of working with the center's ownership group — which included two private owners and CVS — to acquire the land. Sobrato closed on the property back in June, but submitted a planning documentation only Friday. As part of the deal, CVS will gain a new store, to be built at the corner of Woodside Road and Bay Road.
The apartment component would be placed closest to Chestnut Street, with the buildings rising up to six stories. Along Bay and Chestnut streets, the apartments would have stoops to contribute to a neighborhood feel and a pedestrian orientation — something that's currently lacking. Units would be one- and two-bedroom, averaging 922 square feet. The placement of residential on this side "creates a softer edge to the project" in keeping with the residential neighborhood on the other side of Chestnut, Hollister said.
The two, five-story office buildings would weigh in at 200,000 and 220,000 square feet each, plans show. They would be separated from the apartments by a 40,000-square-foot, publicly accessible landscaped open space that also would serve as a mid-block pedestrian path through the project. "It will have gathering areas people can enjoy, but is also a connector so people can start to get between different neighborhoods," Hollister said.
What you won't find: Much surface parking. Only 40 of the planned 1,860 stalls would be surfaced-parked, with the rest either below grade or at-grade but below the apartment units. And the parking would be shared, meaning that residents and guests could park in the office parking garage on nights and weekends, and office workers could park in unassigned residential spots during the workday.
The project's broad concept appears to be in line with the city's vision for the site, officials said. The shopping center's existing zoning "allows a combination of higher-density commercial as well as residential uses," Community Development Director Aaron Aknintold me. The city will now review the project's details to ensure consistency, and will also initiate an environmental review to assess its impact on many topics, including traffic.
"At this point it's just a conceptual application, so they'll get some initial comments back from staff and we'll begin the environmental review process," Aknin said.
Development backlash?
Still, there is increasing uncertainty about development's political prospects in Redwood City right now. The city has become a development hot spot, with a slew of office and residential projects downtown and in the "Inner Harbor" area on the east side of Highway 101. That has led to vocal development backlash, something I wrote about last month. The loss of the retail center's tenants could also stir complaints that some affordable shopping is being lost: The center includes both a Foods Co. and Big Lots. And the traffic impact is sure to be scrutinized as more major projects are proposed for this area. (Meanwhile, the city is moving forward with plans for a revamp of the infamous Highway 101/Woodside Road interchange nearby — something development will have to help pay for.)
This isn't news to Sobrato. "Any project needs to be ready for a good dialogue with the community about how it gets developed and about the community's needs," Hollister said. "We're committed to that. We have tenants in there for a couple of years. We're not going to jam this through in the next couple months."
While Hollister said he understands the concerns from some slow-growth advocates, he noted, they are not the only interests in town. "There are also concerns about having a sufficient supply of housing in Redwood City, and we're talking about 400 units of housing that will never get built if we leave the existing shopping center there."
Sobrato also intends to spend millions to clean up the Broadway Plaza site, which was contaminated years ago by a neighboring manufacturing facility.
"As part of redeveloping this, we worked out a cleanup plan with State Water Resources Control Board, which can't be done while existing shopping center is there," Hollister said.
Another northward move north for Sobrato
Broadway Plaza marks another example of Sobrato's increasing focus on the northern reaches of Silicon Valley after decades of being closely associated with the South Bay. The firm's moves are closely watched given its long and successful history.
"We see our mission, as a company, to be working broadly in the Bay Area, not just the South Bay per se," Hollister said. "While that's our roots, we're looking at opportunities all over the Bay Area."
Still, this is not its first introduction to Redwood City. The Sobrato Center for Nonprofits is at 330 Twin Dolphin Drive in the Redwood Shores district. The 121,000-square-foot building houses youth-development, housing, health and human services providers and is part of Sobrato's philanthropic arm.
Other active Peninsula projects for Sobrato include the Commonwealth Corporate Center in Menlo Park, where the companyis building a 260,000-square-foot project that is fully leased by EMC Corp. Sobrato is also under construction on University Plaza, a 209,000-square-foot office building in East Palo Alto— the city's first in years. In Mountain View, Sobrato is planning a 100,000 square foot office building downtown. In that city's North Bayshore, Sobrato has proposed 370 units and about 400,000 square feet of office.
Yet Sobrato isn't turning its back on the South Bay either. It is in the early stages of developing a 399-unit high rise in downtown San Jose, and is eyeing its next office project moving in Santa Clara, at 3000 Bowers.
Going forward, Hollister expects more and more Bay Area projects — both his own firms and others' — to integrate more uses. In suburban settings, such as Broadway Plaza, that will likely be "horizontal" mixed use — where residential and office and retail are side by side — rather than vertical, because height is still a flashpoint. Over time, though, he expects density to increase as people become more comfortable and realize the benefits of mixed-use.
"We recognize that people need time to adjust as things change," he said. "We are very focused on locations that are transit served — as best they can be within our system — and that are supportive of mixed-use opportunities."
It's unclear when Broadway Plaza would come up for its first public hearings, but with the city planning department just starting its assessment, that's a ways off. "You won't see this project working forward until 2017 or 18 at the earliest," Hollister said.