In The News
SWANA announces 2016 Excellence Awards winners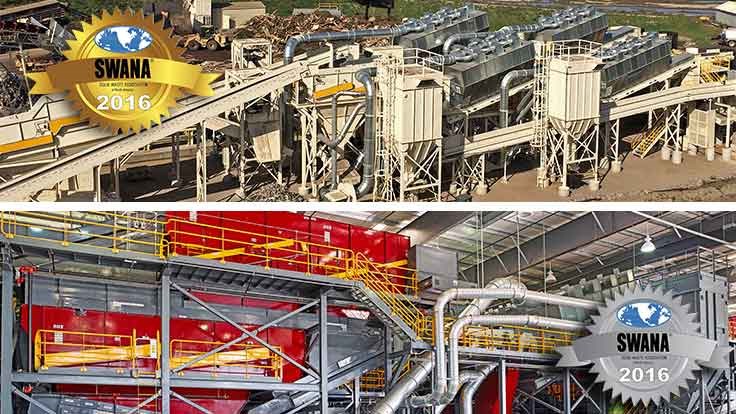 The Solid Waste Association of North America (SWANA) has announced the 2016 winners of the association's annual Excellence Awards. San Jose, California-based Zanker Recycling was awarded the Recycling System Gold Award, the top honor, for its demolition recycling operation. Silver was awarded to City of Industry, California-based Athens Services' Sun Valley mixed materials recovery facility (MRF). Both systems were designed, engineered, manufactured and installed by Bulk Handling Systems (BHS).
SWANA's Excellence Awards Program recognizes outstanding solid waste programs and facilities with environmentally and economically sound solid waste management practices. Winners demonstrate effective technologies and processes in system design and operations, worker and community health and safety, and successful public education and outreach programs. The programs also must demonstrate that they are fiscally and environmentally responsible through their compliance with all applicable federal, state and local regulations.
Zanker Recycling's 60 tons per hour (tph) demolition debris MRF processes a challenging type of material known as Interior Demolition, comprised of only 60 percent wood waste. To best serve its customers' LEED goals and the state's diversion goals, Zanker Recycling decided that a highly-automated process was needed to efficiently and effectively recover this material stream. Precise sizing with BHS debris roll screens provides two consistently sized infeed streams to a total of four Nihot single drum separators. The size fractions allow Nihot's air classification technology to remove rock and then wood. The advanced system has helped Zanker Recycling increase its recycling rate to 86 percent.
Athens Services' Sun Valley MRF processes more than 70 tph of mixed commercial and multifamily waste. The system features BHS screen, Nihot air and NRT optical technology to recover more than 95 percent of available recyclables. The technology is in place to maximize the purity of end products, including NRT optical sorters to target fiber and plastic commodities. Athens Services operates in excess of 98 percent uptime. According to the company, "With exceptional personnel, cross training and a deep understanding of our waste and equipment, the Sun Valley MRF produces commodities that surpass many Single Stream MRFs."
The 2016 awards honor 31 programs and facilities in 12 different categories, spanning many facets of the municipal solid waste industry. Award winners represent the most innovative and dynamic organizations throughout North America as judged by their peers, and SWANA is proud to recognize their accomplishments.
"The recipients of the SWANA Excellence Awards represent the best solid waste management practices in North America today," said David Biderman, SWANA executive director and CEO.  "Community leaders should be very proud of the valuable contributions that these projects provide to their citizens," he added.
The winners are acknowledged at the annual Wastecon event. The 2016 ceremony is Indianapolis.