In The News
Target Joins Santa Clara Town Centre
On Jan. 17, Target officially announced that the retailer will open an approximately 140,000 square-foot Target in Santa Clara Town Centre in October. Situated at 2004 El Camino Real, it will anchor the completely remodeled and redesigned Mervyn's Plaza at the corner of El Camino and Scott that had become dilapidated over the past several years.
According to a press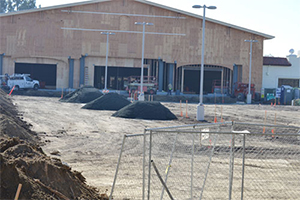 release from Target, the store will "offer guests the everyday essentials and exclusive brands they have come to expect from Target," and will also include a selection of fresh produce, fresh packaged meat and pre-packaged baked goods, as well as a Starbucks, a Target Pharmacy and a Target Optical. The store will be among 10 Target stores opening in 2014.
The Santa Clara Town Centre Target store will employ approximately 200 people. Job fairs will be held approximately two months prior to the store opening, and job seekers will be able to apply online at http://www.target.com/careers and at in-store kiosks located in all Target stores approximately three months prior to store's opening.
"Target is excited about our first store in Santa Clara and our continued expansion into the South Bay area," said Cary Strouse, Target's senior vice president of stores in the Western region. "With the opening of our Santa Clara Target store, we are bringing 200 jobs to the area and delivering our 'Expect More. Pay Less.' brand promise to even more guests in the area."
Target says it will create strong partnerships with local organizations and the store will start a local grant program, contri
bute to the United Way and donate food to a Feeding America member, or approved agency.
Minneapolis-based Target Corporation has 1,921 stores including 1,797 in the United States and 124 in Canada. Since 1946, Target has given five percent of its profit through community grants and programs. Today, that giving equals more than $4 million a week.
In addition to Target, the Santa Clara Town Centre redevelopment will include a Sprouts Farmer's Market. According to the commercial listing by Meacham/Oppenheimer, Inc. (http://www.moinc.net/property-details.cfm?PropertyID=295), the development includes the new Holder Brothers Mission City Grill (replacing the former Country Inn Café that was demolished), Habit Burger & Grill, SAAJ Mediterranean (http://sajjstreeteats.com/), Chipotle, Peet's Coffee & Tea, Panera Bread & Bakery, Footwear Etc., Carter's, GNC, Sprint and Peninsula Beauty.
In addition to new tenants, established tenants Walgreen's, Boston Market, Kobe, China Stix, All-Out Baseball, Subway, Baskin Robbins, Gloria's Hallmark, Animal Health Center, Launderland, Simone's Hair, Santa Clara Hair Studio, Star Nails and Plaza Cleaners will remain, with revitalized facades and landscaping on the West Building where many of those businesses reside.
According to the listing, 11 buildings remain available, ranging from slightly under 1,200 square feet to 10,000 square feet, with most under 2,000 square feet.
City Council's reconsideration of a big-box store ordinance three years ago helped mold the addition of Target to redevelop the strip mall that once housed many popular stores.
According to Kahn Design Associates, the architecture of the property will see "Decorative features includ[ing] cement plaster finish, decorative tile accents, metal awnings and lush landscaping with a wisteria covered trellis, a garden of white roses and series of flowing locust trees along the street frontage, " adding that "the architecture is enriched with a Spanish Colonial Revival style (based on the Santa Clara's "Mission City" heritage) and surrounded by gracious, richly landscaped walkways, plazas and courtyards. Shoppers will also enjoy new fountains, terraces and numerous opportunities for outdoor dining."
Santa Clara Town Centre is expected to be completed in the fall of 2014.