In The News
Developer Kicks Off Leasing of Menlo Park Apartments Next to Facebook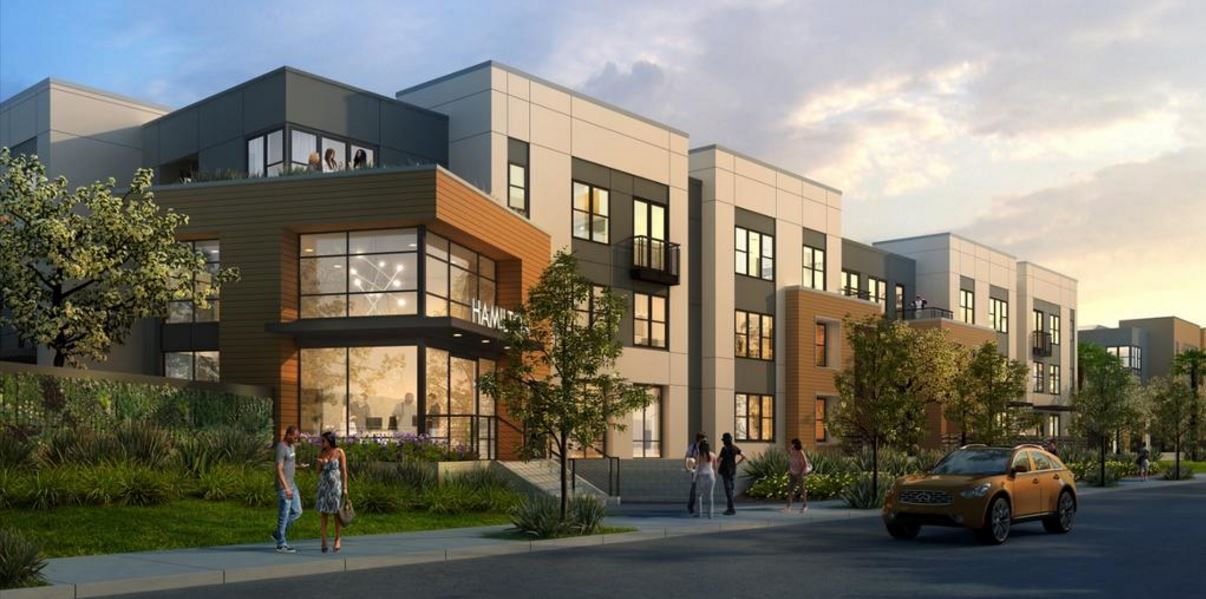 Greenheart Land Co. is kicking off leasing of its 195-unit apartment project at 777 Hamilton Ave. in Menlo Park within walking distance of Facebook's main campus. The apartments were designed with young professionals in mind, said Bob Burke, principal at Greenheart.
"We're next to Facebook," he said. "And there's thousands of employees at other companies nearby."
Many millennial workers live in San Francisco and take a company shuttle to work, but Burke said more and more of those workers would rather live closer to their jobs and explore the city and other areas on the weekends.
"They are saying, 'I don't want to spend an hour on a bus,'" twice a day, he said.
The Hamilton includes seven buildings on 6.5 acres that the developer pushed to rezone from industrial to residential use. The complex, designed by KTGY Group Inc. and built by W. L Butler Construction, Inc., includes a mix of one-, two- and three-bedroom units ranging from about 700 to 1,600 square feet with rents from $3,100 to $6,200 per month.
Some of the three-bedroom units feature three bathrooms, ideal for sharing with roommates, Burke said.
Instead of a large pool as an amenity, Greenheart went with various spa areas with cool water in the summer and hot water in the winter. The idea, Burke said, is that younger renters would rather lounge in a hot tub surrounded by friends than swim laps.
The property will also feature an outdoor cabana area with televisions and an outdoor kitchen with a bar and fireplace similarly designed for hanging out. The first units in the complex will be ready for tenants in September and the rest of the buildings will be done by March.
Burke anticipates high demand for the units because of Menlo Park's dire lack of new housing despite robust job growth.
Other Bay Area cities like San Francisco and Redwood City have added or will add thousands of new apartments. A few other apartment developments are in the works for Menlo Park, including 394 units at 3639 Haven Ave. from St. Anton Partners, 146 units from CityView and Greystar, and Sequoia Belle Haven at 1221 Willow Road, a 42-unit affordable housing project from MidPen Housing Corp.
Burke would have liked to build double the number of apartments in The Hamilton since the site is six acres, but city zoning wouldn't allow it. Those types of policies make it harder to address the housing crisis and lack of affordability that local politicians and residents complain about, he said.
"They are certainly not making any more land in Menlo Park," he said. "The only way you are going to increase supply in a place like Menlo Park is to take underutilized sites and put more density on them."
Greenheart is also working on entitling Station 1300, a housing and office development adjacent to the Menlo Park Caltrain Station. That project still needs city council approval to move forward.